Kindergarten Graduation
Congratulations, Congratulations!
Two expressions of delight for the two groups of graduates who celebrated their academic milestones on 26th March 2022.
Tiny tots were all dressed up with nice attires and performed different activities like singing, rhymes, dance and enacted story's which was appreciated by the audience.
It was a memorable day for all of us to see the kindergartners walk up the stage to receive their sashes, caps and memory booklets.
Date: 26-03-2022
FIITJEE Global School Vellore
World forestry day
World forestry day is celebrated on 21st March every year. Forest are essential for life on Earth. This day is celebrated to raise awareness of the importance of all types of trees. The students of FIITJEE Global School presented some cultural programmes, they also planted saplings in the school campus together with the District Officer of Vellore and other forest officers.
Date: 21-03-2022
FIITJEE Global School Vellore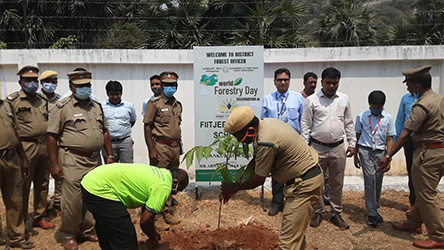 ---
Open House 2022
FIITJEE Global School invited the parents of Vellore to witness the unique curriculum of the school and also to interact with the teachers.
Our campus was blooming with joy and happiness seeing the kids walk into our school. Parents were taken on a school tour; all their questions were answered. Parents also witnessed about how we work, our vision and our child centric approaches. Also parents were indulged in some intriguing activities.
Date: 20-03-2022
FIITJEE Global School Vellore
Talent Fiesta
Talent Fiesta a day to celebrate the unique talents, a day to embrace, to showcase your special skills and to bring out your hidden talents. Our unique talents are some of the things that make us who we are and also define our personalities and our outlook to life. Talent Fiesta was organised by the junior school for the students of classes I to V. Children showcased their talents with poise and credence. This rendered an opportunity for the children to purse in academic excellence and to unravel the creative talent of the young students.
Date: 05-03-2022
FIITJEE Global School Vellore
World Wildlife Day
This world wildlife day was an opportunity to celebrate the most beautiful and varied forms of wild fauna and flora and to raise awareness of the multitude of benefits that their conservation provides to people. It is celebrated also the realise the threats they are facing and the urgent need for government to take necessary steps to conserve wildlife. The wellbeing of people and our planet are inseparable. Children in FIITJEE Global School celebrated the World Wildlife Day and were asked to talk about how important it is to Recover key species for Ecosystem Restoration. We had a virtual session of the zoo with the lower classes and different activities with higher class students. To achieve a fairer, healthier future for all we need to transform our relationship with nature.
Date: 03-03-2022
FIITJEE Global School Vellore
ScientiFiG Fest
Taking you through FIITJEE Global School's exquisite Science Day celebration. We in FGS think it's an intriguing way of learning science through working models, contest and workshops in Telescope making, Stratospheric Defence, Measuring Circumference of Earth and Race your Robo.
Incorporating Robotics as the criterion by modelling scientific phenomena and its finest by our FIITJEE Global School students. The workshops intended that the students were delighted to exhibit their vogue on AI based mechanics & it was well utilised by aspiring participants.
Water bottle Rocket
Being the most fun-filled and compelling event, with the perception of eco-friendly requisites. Students bring out the miniature flight by using water as its reaction mass and propelled the everlasting "action-reaction" concept into them.
Date: 27-02-2022 & 28-02-2022
FIITJEE Global School Vellore
World Scout Day
World Scout Day a day where many current and former scouts all over the world wear their scarves to work school or out in public for recalling the movement's origin not for just wearing scarves. Scouting is also educating the youth to be gender equality champions. Also all members of the scouting re-affirm their scout promises. Robert Baden Powell and 20 boys started their experimental campaign on 1st August 1907 as the beginning of scouting movement. As scouts this special day needs to be celebrated and this day is not just to remind the world scout scarf day but also the whole scouting movement. The students of FIITJEE Global School had Simple celebrations of scouting.
Date: 22-02-2022
FIITJEE Global School Vellore
---
International Mother Language Day
This day has become an invitation for a global celebration to use many languages as possible. Mother language day highlights the significance of the linguistic diversity and multilingualism for sustainability and peace. The day focuses on how languages hold strategic importance for people and can advance the process of education and development. Never ever stop valuing your mother language as it is something to always respect and cherish. Our mother tongue is what gives us our identity and we must always be proud of it. When children learn the mother language they understand there is a big change in its attainment. Our mother tongue is what connects us to our culture. Our children have celebrated the international mother language day in an exquisite way and we are in awe of it.
Date: 21-02-2022
FIITJEE Global School Vellore
---
Social Empowerment Work in Action (SEWA)
SEWA (Social Empowerment Work in Action) brings together the students and increases their role and responsibilities towards the society, and inspiriting personal development of a child to a great extent. The 9th graders of FIITJEE Global School carried mango saplings, and planted them in empty places in order to restore the ecological balance. Such little steps taken by the school and students will surely help in fostering a strong connect with the environment and also expands one's bubble of concern to encompass a wider spectrum and aids in creating a generation of committed and selfless people.
Date: 17-02-2022
FIITJEE Global School Vellore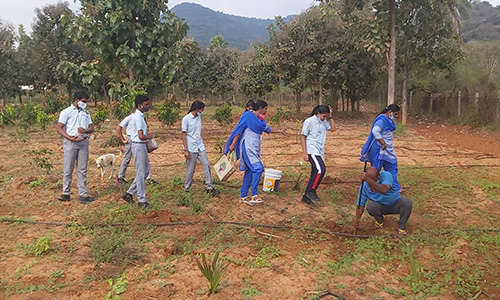 ---
World Cancer Day
FIITJEE Global school celebrated the World Cancer Day on February 4th 2022. Students were involved in several activities to create awareness about the disease of cancer. Supporting the Fighters, Admiring the Survivors, Honouring the Taken.
Date: 04-02-2022
FIITJEE Global School Vellore
---
World wetland Day
World wetland day is celebrated to raise global awareness about the vital role of wetlands for people and planet. Wetlands are valuable for flood protection, water quality improvement, shoreline erosion control, natural products, recreation and aesthetics. This day is celebrated every year on the 2nd February to create awareness on wetlands and to ensure conservation and sustainable use of wetlands for humans and planetary health. Wetlands purify and replenish water. Wetlands provide enormous ecosystem services from flood control, mitigating nutrient losses, biodiversity, groundnut water recharge, sediment traps, and water purification to name a few. Natural sponge protects from Drought and Climate change Children from FIITJEE Global school done Collage work and Drawing on wetlands and understood the importance of wetlands for future.
Date: 02-02-2022
FIITJEE Global School Vellore
---
National Coast Guard Day
Every year Indian coast guard is celebrated on February 1st. It is celebrated in honour of organizations from every country that look after Maritime security and also the need of the country. IGC protects India' s maritime interest and enforces the maritime law with jurisdiction over the territorial waters of India. The motto of the Indian coast guard is Vayam Rakshamah in Sanskrit which means We Protect. This year we are observing 46th coast guard Day. Children of Grade4 and Grade5 from FIITJEE Global school performed some activities on coast guard to honour the people of Indian Navy.
Date: 01-02-2022
FIITJEE Global School Vellore
---
Republic Day - Celebration
" Everything that is really great and inspiring is created by the individual who can labour in freedom". The nation celebrates 73rd Republic Day on January 26. This day marks the coming into force of the constitution of India on 26th January 1950. As a free nation India has journeyed through several ups and down and has proved its capabilities in every domain of life. The present state of achievements the country has made a promise to see India as one of the well-developed superpowers of the world within just a few years. FIITJEE Global School, celebrated the 73rd Republic Day with patriotic fervour and zeal. A plethora of programmes were organized to infuse the spirit of unity, goodwill and patriotism among the students.
Date: 26-01-2022
FIITJEE Global School Vellore
National Girl Child day
National girl child day is celebrated on 24th of January every year. This celebration was started to offer more supports and new opportunities to the girls in the country and also to increase the awareness among people about all inequalities faced by the girl child in the society. It is celebrated to promote the girls' position in the society to make their living better among society people. While we are constantly looking at the changing learning landscape during the pandemic, FIITJEE Global School takes pride in dedicating a week for the girl children from the 24th of Jan till 30th Jan 2022. This celebration was started to offer more supports and new opportunities to the girls in the country and also to increase the awareness among people about all inequalities faced by the girl child in the society.
Date: 24-01-2022
FIITJEE Global School Vellore
---