Swimming pool party
This type of water play activity develops hand-eye coordination, learns to lift, pour and control water. It also helps children understand heavy/light, float/sink, full/empty and shallow/deep. They also learn to share, cooperate with each other and have fun.
Date: 26-07-2022
FIITJEE Global School Chennai
---
Free Fire cooking / Butter sandwich
Age-appropriate cooking activities build skills leading to self-confidence for children. Also, cooking can help young children learn and practice some basic math concepts and build language skills. Butter sandwich fire free cooking done by our Pre kg children.
Date: 26-07-2022
FIITJEE Global School Chennai
---
Passion project – My house.
Craft activities allows kids to develop their creativity, which is important throughout their lives. By doing something creative, they become self-expressive and also fosters mental growth by providing opportunities for trying out new ideas, new ways of thinking and problem solving.
Date: 26-07-2022
FIITJEE Global School Chennai
---
Mini Ninja Sword
Learning is the only way to gain knowledge. Creativity enhances skills and understanding levels. Our students brought creativity in Robotics and came up with the idea called "Mini Ninja Sword using LED".
Date: 26-07-2022
FIITJEE Global School Chennai
---
Van Mahotsav
"If a tree is saved even at cost of one's head, it's worth it"
-Amrita Devi Bishnoi
Van Mahotsav which is translated as Tree Festival (Forest Day) "Van" means Forest and "Mahotsav" is a festival, so this festival is celebrated from 1st July through 7th July. It raises awareness about the importance of trees, their plantation, and conservation.
The students of FIITJEE GLOBAL SCHOOL, celebrated Van Mahotsav by planting tree saplings in the school campus. The students were educated about the importance of trees and how it should be conserved. This gave a great insight about the deforestation and afforestation where they got to know how the forest should be maintained.
Date: 01-7-2022 to 07-07-2022
FIITJEE Global School Chennai
---
Robotics Club
Do you know Robots are also used for Entertainment.
Our children built their Entertainment robot using lego spike with obstacle detection technique. Whenever robot detects obstacle, it starts moving.
Sounds interesting right?? Do have a look at video to cherish their skills.
Date: 26-07-2022
FIITJEE Global School Chennai
---
Visit to blind school
Their talent knows no bounds. When one can convey everything through their emotions, blindness is just a state of being. Last week, our primary wing students visited "Lions Academy of Blind". Under the aegis of the charity, the inmates made paper products with our children like envelopes, bags, cups, plates, etc. This visit provided our children an exceptional experience of social consciousness that usher in values like empathy and compassion.
Date: 02-07-2022
FIITJEE Global School Chennai
---
Kargil Vijay Diwas
"If death strikes before I prove my blood, I swear I'll kill death"
- Lieutenant Manoj Kumar Pandey
Let us salute to all our soldiers who are brave and protect us all throughout the day and night. Let us remember their fights and toil on this day. Kargil Vijay Diwas 2022!
Date: 26-07-2022
FIITJEE Global School Chennai
---
Yoga / Tooth pick tower
Each child should have an opportunity to learn in a positive environment, enjoy the learning process, and feel comfortable and content with it. One such learning environment is provided to our FGS children by fostering their learning process.
Date: 01-07-2022
FIITJEE Global School Chennai
---
SEWA Cleanliness & Sanitation
In order to welcome children for SEWA projects and classes, treasure Hunt was conducted. Children fascinatedly hunted for clues after clues, in which each clues led them to destinations after destinations. Final clue led them to the destination where they discovered the proposal of their upcoming projects. This way, the concept of SEWA, the selfless service has been introduced to them.
Date: 04-06-2022
FIITJEE Global School Chennai
---
Toddlers Day
TODDLER TOTS DAY – A DAY OF FUN OR FROLIC
"Toddler Tots' Day" was celebrated at FIITJEE Global School, Vengambakkam, Chennai, campus on Saturday 4th June 2022.
Various events like "Fancy Flora" – the fancy dress competition, "Enactment of an advertisement", "The Cutie catwalk" and many fun games were parts of the day. These activities allowed the parents to re-live their childhood with their kids in an engaing way.
The winners of the competitions were suitably recognized with certificates, mementos and trophies. Miss IniyalAmudhu won a whooping pre-admission prime scholarship worth ₹ 10,00,000.
The patient spectators were bestowed with sumptuous lunch and magnificent excitement thereafter.
Date: 04-06-2022
FIITJEE Global School Chennai
---
Ocean Day Craft
World Ocean Day encourages action throughout the year to protect the planet. It's part of a global movement to safeguard at least 30% of the world's land, waters and ocean by 2030. Children discussed world ocean day and made crafts to show their responsibility toward safeguarding the ocean.
World Ocean Day encourages action throughout the year to protect the planet. It's part of a global movement to safeguard at least 30% of the world's land, waters and ocean by 2030. Children discussed world ocean day and made crafts to show their responsibility toward safeguarding the ocean.
Date: 15-06-2022
FIITJEE Global School Chennai
---
Green Day Celebration
"GREEN DAY CELEBRATION"- Green, the color of life, renewal, nature, and energy, is associated with meanings of growth, harmony, freshness, nurturing and environment".
Everything around us is an array of colours. Green is the most common colour in the natural world, think of nature and see green in all its glory expressing renewal, life and energy.
We celebrated Green day to introduce Green Colour to our lil' Preschoolers.
Date: 18-06-2022
FIITJEE Global School Chennai
---
Colour Splash
Colour splash activity is full of fun with colours. This activity helps the children develop their fine motor skills, encourages patience and relaxation, helps with concentration, improves handwriting, and encourages colour recognition.
Date: 17-06-2022
FIITJEE Global School Chennai
---
Pool party
Splish Splash, the benefits of Water Play in early childhood!
Playing with water is a great way to engage our little ones and have fun on a hot day. Also, we believe that the environment can be one of the best teachers and a better way to learn by having fun in the water! One of our favourite activities here at FGS is enjoying the amazing water equipment we have in our outdoor areas.
Water sensory play provides hours of rich and valuable early childhood experiences to develop children's creativity, imagination, hand-eye coordination and math and science concepts. It also enhances social skills and encourages cooperation.
Date: 23-06-2022
FIITJEE Global School Chennai
---
Sense of Touch
Our skin is packed with many sense receptors, and it builds nerve connections in our brain. Children in our school are engaged in such activities to touch and feel different textures like warm, cold, dull, rough, soft, smooth, wet or dry. It also develops their language skills and sharpens their sensory skills.
Date: 25-06-2022
FIITJEE Global School Chennai
---
Mystery Box
The mystery bag has long been a favourite children's activity. It is a box with a hole for them to touch and manipulate the objects that they cannot see. It develops their ability to visualize objects using only their sense of touch. On behalf of Father's Day, the objects used by dads were created and dropped inside the mystery box. Children identified and shared a few words about it, as it was both challenging and fun.
Date: 25-06-2022
FIITJEE Global School Chennai
---
Our Students' Rendezvous with an elite assembly of famous superstars !
The honour of receiving an invitation from the prestigious "The Hindu Group" to a Sports Conclave held at Chennai, on 28th June 2022, bestowed rare insights on our students, who're ably nurtured and guided by our dedicated sports teachers, as they were spellbound by the speeches and deliberations of the luminaries of sports that galvanized them to understand the key factors of physical, mental and professional growth and ingrained in them the power of reasoning to strengthen the mindset in a world of tough competition with a never-say-die spirit.
Our holistic philosophy is profound in that it does not stop with total academic excellence as a priority but it also gives due importance to sports as a discipline for physical fitness to transform our students into well-rounded personalities. As an outcome of our earnest endeavours in this sphere, we feel euphoric to inform you that our students accompanied by the sports teachers from both the campuses of Vengambakkam and Vellore had the honour of being invited by the prestigious "The Hindu" Group to participate in a "Sports Conclave" conducted by the popular Newspaper and the Group's premier magazine "Sports Star." Held on 28th June 2022 at Chennai, the occasion enjoyed the privilege of having the Hon'ble Chief Minister of Tamil Nadu, Thiru M.K. Stalin, as the Chief Guest who while delivering the keynote address underlined the significance & scope of the public-private partnership for the development of sports in the state. The Conclave turned out to be a very proud moment indeed for our students as they enjoyed a golden chance to meet the famous sports celebrities from diverse fields present as Special Guests. Our enthusiastic students relished the lifetime opportunity to talk to Viswanathan Anand (five-time world chess championship), N. Srinivasan (Owner of Chennai Super Kings and India Cements Ltd), Glenn McGrath (Australian fast bowler), Bharat Arun (Former India and NCA coach), Ramesh Krishnan (former Indian Tennis Star) A. Sharath Kamal, & G. Sathiyan (Indian table tennis players), Anju Bobby George (Olympian medallist), Mithali Raj (recently retired Indian cricket captain) ,V. Baskaran (Former India Hockey captain), and Narain Karthikeyan (Former F1 driver). Students were thrilled and awestruck by the fortune of their interaction with the dignitaries when the students' queries received insightful professional explanations from the legendary players. The legends went ahead to motivate our students to take sports seriously and choose sports as a career. To capture this memorable moment, our students were lucky enough to snap photos with the sports luminaries, some of which have been uploaded to our social media websites. Besides penning down their learning outcomes from the sports conclave, our participants shall present their incredible experience of the Conclave at the school assembly. Sports keep children's minds fresh, spur physical fitness, and make them disciplined and studious. They further develop in the young mind desirable traits such as coordination, multitasking, situational awareness, and leadership that will contribute to the enhancement of their academic achievements. Thus, our initiatives in FIITJEE Global School help maintain the right balance between sports and academics as they play vital roles in student development. FIITJEE Global School stands for a scientific and global approach to the holistic instruction and development of students. Our sports infrastructure par excellence is undeniable of global standards and our inter-disciplinary initiatives for multiple intelligence are blended with sports activities. More and more activities in this significant domain are in the offing. We place on record our gratitude to the wonderful parents and guardians for their unstinting support of our efforts. We are always pleased to receive your responses and views with regard to our students' welfare.
Date: 28-06-2022
FIITJEE Global School Chennai
At this omnipotent event, Students have written a white paper that follows.
White paper
Synopsis
The South Sports conclave was a prestigious event which was held by the Hindu groups of newspapers, where a host of speakers discussed key issues about the sports ecosystem in our region. It had an illustrious number of dignitaries speaking on the panel. It was a once-in-a-blue-moon opportunity for the people who got to attend.
---
International Yoga Day Celebration - 2022
FIITJEE GLOBAL SCHOOL strongly believes in developing both mind and body that helps children grow up into healthy, thoughtful and winning adults.
" Yoga is not about touching your toes, it is the way of life"
The 8th International Yoga Day was celebrated as per the IDY protocol by the Ministry of AYUSH.
Our young yogis performed various practices of stretching exercises, Surya namaskar, and yogasanas. The prize winners of the yoga competition were felicitated with medals and certificates.
Yoga helps in physical, mental, social and spiritual well being. It also helps in shaping the overall personality of our students and improves their memory, attention span, focus and concentration.
Date: 21-06-2022
FIITJEE Global School Chennai
---
Red Day Celebration
Red Day celebration by our little red hearts of FGS. The red day was celebrated to understand different colours around them and to get connected with real-life objects. Also, Colour recognition is a key cognitive-developmental step for toddlers, as it plays an important role in object recognition and is a vital part in helping children to develop their descriptive language skills, which in turn encourages clear communication and understanding. Here comes the snippets of our colour day celebration….
Date: 29-04-2022
FIITJEE Global School Chennai
---

Balance & Coordination
Kidus Optmus kids love these activities where they learn to balance being involved in the activities. They are able to maintain a controlled body position during task performance, whether kids are sitting at a table, walking the balance beam, or stepping up onto a kerb. To function effectively across environments and tasks, we arrange the activities where they learn to acquire the ability to maintain controlled positions during both static (still) and dynamic (moving) activities. These kids also loved the Static balance and tried varied positions with control (e.g. "Freeze" or "statue" games)
Date: 27-04-2022
FIITJEE Global School Chennai
---
Welcome Flower Activity
"Every child is a different kind of flower. All together they make this world a beautiful garden". Here are our tiny tots who are adding colours with their happy schooling @ FGS Vengambakkam. They are confident in spirit, infinite in resources, and eager to learn. Everything is possible by our tiny tots!
Fun activity "Welcome flower" done by our LKG children.
Date: 23-04-2022
FIITJEE Global School Chennai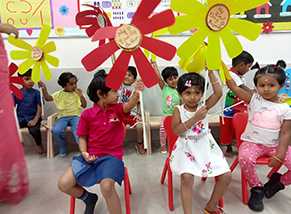 ---
Fun with Gardening
People of all ages can enjoy gardening, but children will have lots of fun and gain special benefits. Also, it helps to develop skills like responsibility, Understanding, Self-confidence, Love of nature, reasoning and discovery, physical activity, cooperation, creativity, and nutrition.
By doing this gardening activity, children become more responsible and understand the value of life. Children of Grade 1 and 2 enjoyed and explored the gardening activity.
Date: 23-04-2022
FIITJEE Global School Chennai
---
Visit to a Post Office
Excursions are means of educating ourselves on how certain things work and how we rely on certain services.
The session has begun, and we had a wonderful visit to the Post-office. The Pre-Primaries began their exploration at the Mahalakshmi Nagar Post-office. The children and teachers were welcomed warmly by the staff at the post office. They were taken around to see how letters are collected, segregated, stamped and then stored in pigeonholes for the postmen to collect. It was altogether a great learning experience, especially in these times of email & fax. Visiting a post office was something out-of-the-ordinary for the children although "post" is an ancient form of communication!
We had a glance at the various counters catering to the public, namely those selling stamps, envelopes, postcards etc. We were explained the way parcels are delivered to different places in the city and places in the country as well as many countries too! While returning we got to see a mail van and were also told the way the letters go by van to the airport and railway station. Later the children posted envelopes that they had prepared in their class by doodling themselves, writing their names and putting a date. They had learned to fold and addressed the letters to their homes. It was delightful to see the excitement on the children's faces as they posted their letters in the post box.
They were naturally also very animated when their teachers played Postman in class as also when their letters were received at Home! We shared in the thrill and the education of this class trip which is likely to get a miss in the modern and fast age that we live in.
Catch a few glimpses of the same!
Date: 22-04-2022
FIITJEE Global School Chennai
---
Earth Day Celebration
Mother Earth is a living organism too. Love, honour and respect her. Love the earth as you would love yourself. The year 2022 marks the 52nd anniversary of the annual celebrations of Earth Day, with the theme of 'Climate Change'. FIITJEE Global School celebrated the Earth Day to motivate the students to engage in environmentally-conscious practices. To sensitise the middle wing students towards environment protection and conservation, many events like Poster making, Slogans making, Environment friendly paper bag making, Typographic Contest on the theme 'Save Earth' were conducted in classes Grade 6 to 9. The young ones presented their work very well which was a delightful experience for them.
The motive was to inculcate students with values of conservation, respecting nature, being mindful of disposing the waste, and encouraging them to reduce, reuse and recycle.
Date: 22-04-2022
FIITJEE Global School Chennai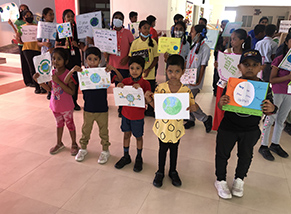 ---
Fireless Cooking Activity
The Fireless cooking activity was conducted with a view in creating awareness about the nutritional value of food cooked without flame, the necessity and advantages of healthy eating habits and avoiding junk food. They also learnt the spirit of teamwork, culinary skills, and appreciating the hard work put into cooking. The aim of this activity was also to provide a platform for students to showcase their talent and explore new areas of interest. The students prepared the puffed rice balls with honey, and they served the dishes in an artistic and aesthetic way which was most appealing, and the display was a visual treat tickling our taste buds.
Date: 21-04-2022
FIITJEE Global School Chennai
---
First Day of School
Whenever a new academic session starts, it brings with it a ray of positivity, newness and hope. Today we celebrated Creative morning greetings to welcome the new session and foster healthy relationships among students.
Catch a few glimpses of the same!
Date: 04-04-2022
FIITJEE Global School Chennai
---
International Day of Mine Awareness
The United Nations' International Day for Mine Awareness and Assistance in Mine Action is observed on April 4 each year. This day aims to raise awareness about landmines and progress toward their eradication.
Date: 04-04-2022
FIITJEE Global School Chennai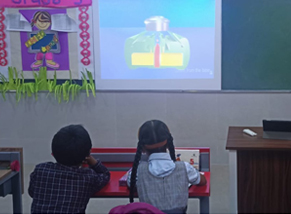 ---
World Health Day
World Health Day is celebrated every year to raise awareness about the ongoing health issues that concern people across the world. The day is also used as an opportunity to spread awareness about the overall health and well-being of people.
Date: 07-04-2022
FIITJEE Global School Chennai
---
Graduation Day
The previous academic year was without a doubt a year full of challenges, excitement, experiments, learning, and development for both our students and teachers, and to honour the same, FIITJEE Global School organised Graduation Day before bidding farewell to that year. New beginnings are always exciting and full of new opportunities, and our students are looking forward to them.
Date: 26-03-2022
FIITJEE Global School Chennai
---
Open House Day
Open houses are an essential part of our school's outreach to the community. They are a testament to the dedication of teachers and a chance to see the varied student learning opportunities. Happy to share the Open House day we had in our school on 19th March at 11.00 to 1.00 pm. It was a great experience to discuss with the young parents about the importance of early years education. It was an informative and interactive day with lots of fun filled activities for kids to cherish their first school experience with our FIITJEE global school
Date: 18-03-2022
FIITJEE Global School Chennai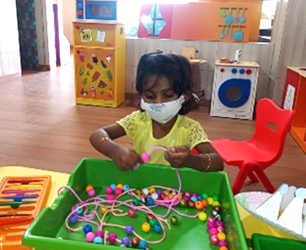 ---
Holi Celebration
According to the Indian Shaka calendar, Holi is celebrated in Phalgun on a full moon day during the spring season, which marks the end of cold winters and welcomes spring, thus, symbolizing new beginnings. Holi reflects the deeper themes in life- the joy of having friendships, the triumph of good over evil, the expression of positive emotions, the strength to overcome challenges, negativities, arguments, or bitterness in relationships, and to move on with positive emotions. There are innumerable reasons behind celebrating Holi, the most important one being that it is the expression of togetherness & acceptance.
Here, in our school we celebrated with lot of colours and witnessed the squeal and zeal of our children celebrating holi at our campus.
Date: 18-03-2022
FIITJEE Global School Chennai
---
Science day Celebration
'Science and everyday life cannot and should not be separated'– Rosalind Franklin National Science Day was observed by the students of FIITJEE Global School on 27th and 28th February 2022. The celebration included insightful keynotes, informative sessions, workshops live projects, and various competitions. This event provided great insight to enhance and improve their interest in science and technology.
Date: 27-02-2022 & 28-02-2022
FIITJEE Global School Chennai
---
Republic Day - Celebration
FIITJEE Global School, Vengambakkam, celebrated the 73rd Republic Day with patriotic fervour and zeal. The school organized a virtual programme " Azadi Ka Amrit Mahotsav", on January 26, 2022. Mrs Mohana Priya, Principal of the school, unfurled the tricolor. The primary students felt proud of nation's rich heritage when they sang the flag song. She welcomed the guest of honour, Mrs. Aarti Singh Sardana, the Management Representative of FIITJEE Global School, who motivated and inspired the students to be true citizens of India.
Date: 26-01-2022
FIITJEE Global School Chennai
National Girl Child day
January 24th is celebrated as National Girl Child Day in India. FIITJEE Global school is proud to announce a dedicated celebration week for the girl children (from 24th to 30th January 2022). A host of activities are organized during this period.
Date: 22-01-2022
FIITJEE Global School Chennai
---
Pongal Celebration (Virtual)
FIITJEE Global School celebrated the Pongal in a splendid manner. Pride and festive cheer marked the Pongal celebration. Students learnt that these festivals are moments that help everyone to establish love, unity and nourish their relationships.
Date: 22-01-2022
FIITJEE Global School Chennai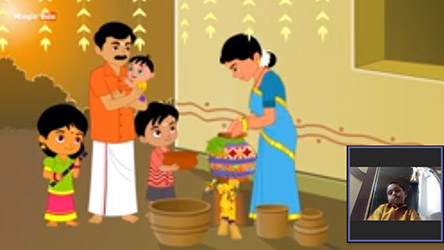 ---
Hindi Vishwa Diwas
Fiitjee global school has celebrated Hindi Vishwa Diwas virtually on 10th January 2022. Students were involved in several activities that highlighted the importance of the Hindi language. Students have thoroughly enjoyed the celebration.
Date: 10-01-2022
FIITJEE Global School Chennai
---
---