Red Day Celebration
Red Day celebration by our little red hearts of FGS. The red day was celebrated to understand different colours around them and to get connected with real-life objects. Also, Colour recognition is a key cognitive-developmental step for toddlers, as it plays an important role in object recognition and is a vital part in helping children to develop their descriptive language skills, which in turn encourages clear communication and understanding. Here comes the snippets of our colour day celebration….
Date: 29-04-2022
FIITJEE Global School Chennai
---

Balance & Coordination
Kidus Optmus kids love these activities where they learn to balance being involved in the activities. They are able to maintain a controlled body position during task performance, whether kids are sitting at a table, walking the balance beam, or stepping up onto a kerb. To function effectively across environments and tasks, we arrange the activities where they learn to acquire the ability to maintain controlled positions during both static (still) and dynamic (moving) activities. These kids also loved the Static balance and tried varied positions with control (e.g. "Freeze" or "statue" games)
Date: 27-04-2022
FIITJEE Global School Chennai
---
Welcome Flower Activity
"Every child is a different kind of flower. All together they make this world a beautiful garden". Here are our tiny tots who are adding colours with their happy schooling @ FGS Vengambakkam. They are confident in spirit, infinite in resources, and eager to learn. Everything is possible by our tiny tots!
Fun activity "Welcome flower" done by our LKG children.
Date: 23-04-2022
FIITJEE Global School Chennai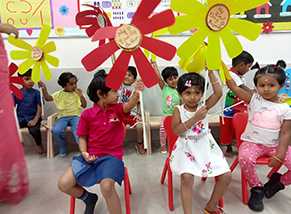 ---
Fun with Gardening
People of all ages can enjoy gardening, but children will have lots of fun and gain special benefits. Also, it helps to develop skills like responsibility, Understanding, Self-confidence, Love of nature, reasoning and discovery, physical activity, cooperation, creativity, and nutrition.
By doing this gardening activity, children become more responsible and understand the value of life. Children of Grade 1 and 2 enjoyed and explored the gardening activity.
Date: 23-04-2022
FIITJEE Global School Chennai
---
Visit to a Post Office
Excursions are means of educating ourselves on how certain things work and how we rely on certain services.
The session has begun, and we had a wonderful visit to the Post-office. The Pre-Primaries began their exploration at the Mahalakshmi Nagar Post-office. The children and teachers were welcomed warmly by the staff at the post office. They were taken around to see how letters are collected, segregated, stamped and then stored in pigeonholes for the postmen to collect. It was altogether a great learning experience, especially in these times of email & fax. Visiting a post office was something out-of-the-ordinary for the children although "post" is an ancient form of communication!
We had a glance at the various counters catering to the public, namely those selling stamps, envelopes, postcards etc. We were explained the way parcels are delivered to different places in the city and places in the country as well as many countries too! While returning we got to see a mail van and were also told the way the letters go by van to the airport and railway station. Later the children posted envelopes that they had prepared in their class by doodling themselves, writing their names and putting a date. They had learned to fold and addressed the letters to their homes. It was delightful to see the excitement on the children's faces as they posted their letters in the post box.
They were naturally also very animated when their teachers played Postman in class as also when their letters were received at Home! We shared in the thrill and the education of this class trip which is likely to get a miss in the modern and fast age that we live in.
Catch a few glimpses of the same!
Date: 22-04-2022
FIITJEE Global School Chennai
---
Earth Day Celebration
Mother Earth is a living organism too. Love, honour and respect her. Love the earth as you would love yourself. The year 2022 marks the 52nd anniversary of the annual celebrations of Earth Day, with the theme of 'Climate Change'. FIITJEE Global School celebrated the Earth Day to motivate the students to engage in environmentally-conscious practices. To sensitise the middle wing students towards environment protection and conservation, many events like Poster making, Slogans making, Environment friendly paper bag making, Typographic Contest on the theme 'Save Earth' were conducted in classes Grade 6 to 9. The young ones presented their work very well which was a delightful experience for them.
The motive was to inculcate students with values of conservation, respecting nature, being mindful of disposing the waste, and encouraging them to reduce, reuse and recycle.
Date: 22-04-2022
FIITJEE Global School Chennai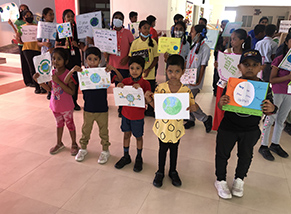 ---
Fireless Cooking Activity
The Fireless cooking activity was conducted with a view in creating awareness about the nutritional value of food cooked without flame, the necessity and advantages of healthy eating habits and avoiding junk food. They also learnt the spirit of teamwork, culinary skills, and appreciating the hard work put into cooking. The aim of this activity was also to provide a platform for students to showcase their talent and explore new areas of interest. The students prepared the puffed rice balls with honey, and they served the dishes in an artistic and aesthetic way which was most appealing, and the display was a visual treat tickling our taste buds.
Date: 21-04-2022
FIITJEE Global School Chennai
---
First Day of School
Whenever a new academic session starts, it brings with it a ray of positivity, newness and hope. Today we celebrated Creative morning greetings to welcome the new session and foster healthy relationships among students.
Catch a few glimpses of the same!
Date: 04-04-2022
FIITJEE Global School Chennai
---
International Day of Mine Awareness
The United Nations' International Day for Mine Awareness and Assistance in Mine Action is observed on April 4 each year. This day aims to raise awareness about landmines and progress toward their eradication.
Date: 04-04-2022
FIITJEE Global School Chennai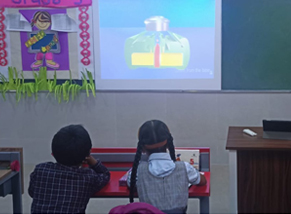 ---
World Health Day
World Health Day is celebrated every year to raise awareness about the ongoing health issues that concern people across the world. The day is also used as an opportunity to spread awareness about the overall health and well-being of people.
Date: 07-04-2022
FIITJEE Global School Chennai
---
Graduation Day
The previous academic year was without a doubt a year full of challenges, excitement, experiments, learning, and development for both our students and teachers, and to honour the same, FIITJEE Global School organised Graduation Day before bidding farewell to that year. New beginnings are always exciting and full of new opportunities, and our students are looking forward to them.
Date: 26-03-2022
FIITJEE Global School Chennai
---
Open House Day
Open houses are an essential part of our school's outreach to the community. They are a testament to the dedication of teachers and a chance to see the varied student learning opportunities. Happy to share the Open House day we had in our school on 19th March at 11.00 to 1.00 pm. It was a great experience to discuss with the young parents about the importance of early years education. It was an informative and interactive day with lots of fun filled activities for kids to cherish their first school experience with our FIITJEE global school
Date: 18-03-2022
FIITJEE Global School Chennai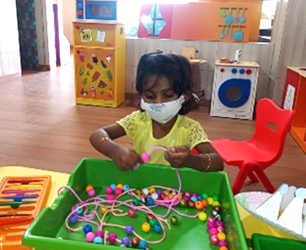 ---
Holi Celebration
According to the Indian Shaka calendar, Holi is celebrated in Phalgun on a full moon day during the spring season, which marks the end of cold winters and welcomes spring, thus, symbolizing new beginnings. Holi reflects the deeper themes in life- the joy of having friendships, the triumph of good over evil, the expression of positive emotions, the strength to overcome challenges, negativities, arguments, or bitterness in relationships, and to move on with positive emotions. There are innumerable reasons behind celebrating Holi, the most important one being that it is the expression of togetherness & acceptance.
Here, in our school we celebrated with lot of colours and witnessed the squeal and zeal of our children celebrating holi at our campus.
Date: 18-03-2022
FIITJEE Global School Chennai
---
Science day Celebration
'Science and everyday life cannot and should not be separated'– Rosalind Franklin National Science Day was observed by the students of FIITJEE Global School on 27th and 28th February 2022. The celebration included insightful keynotes, informative sessions, workshops live projects, and various competitions. This event provided great insight to enhance and improve their interest in science and technology.
Date: 27-02-2022 & 28-02-2022
FIITJEE Global School Chennai
---
Republic Day - Celebration
FIITJEE Global School, Vengambakkam, celebrated the 73rd Republic Day with patriotic fervour and zeal. The school organized a virtual programme " Azadi Ka Amrit Mahotsav", on January 26, 2022. Mrs Mohana Priya, Principal of the school, unfurled the tricolor. The primary students felt proud of nation's rich heritage when they sang the flag song. She welcomed the guest of honour, Mrs. Aarti Singh Sardana, the Management Representative of FIITJEE Global School, who motivated and inspired the students to be true citizens of India.
Date: 26-01-2022
FIITJEE Global School Chennai
National Girl Child day
January 24th is celebrated as National Girl Child Day in India. FIITJEE Global school is proud to announce a dedicated celebration week for the girl children (from 24th to 30th January 2022). A host of activities are organized during this period.
Date: 22-01-2022
FIITJEE Global School Chennai
---
Pongal Celebration (Virtual)
FIITJEE Global School celebrated the Pongal in a splendid manner. Pride and festive cheer marked the Pongal celebration. Students learnt that these festivals are moments that help everyone to establish love, unity and nourish their relationships.
Date: 22-01-2022
FIITJEE Global School Chennai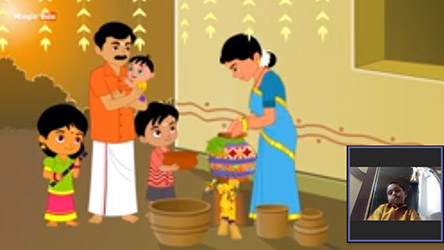 ---
Hindi Vishwa Diwas
Fiitjee global school has celebrated Hindi Vishwa Diwas virtually on 10th January 2022. Students were involved in several activities that highlighted the importance of the Hindi language. Students have thoroughly enjoyed the celebration.
Date: 10-01-2022
FIITJEE Global School Chennai
---
---