Importance Of Early Education In Brain Development And Its Impact.

"6 Musts You Should Check Before Choosing A School For Your Toddler."
Introduction
---
A child's capacity to learn and achieve in school and life is influenced by early brain development. The child's early experiences, whether favourable or unpleasant, impact how his or her brain grows. " What we see changes what we know. What we know changes what we see."
-Jean Piaget
90% of a child's brain develops by the age of five
---
The average size of an infant's brain is approximately one-fourth of the size of an adult's brain. It doubles its size in the first year. By the age of three, its size becomes roughly 80% of an adult's brain. The brain has different parts, each controlling specific functions. These parts grow at different speeds. By the age of five, the brain attains almost the full size.
The brain is the human body's command centre. Although a newborn has all the brain cells (neurons) that they will have for the rest of their lives, it is the connections between these cells that allow the brain to function. We can move, think, talk, and accomplish almost everything due to these connections. So, these relationships must be developed during the early years of life. An early brain development has a lasting impact on a child's ability to learn and succeed in school and life.
Response matters
---
Young children often try to interact with their parents and other adult caregivers. Infants communicate by smiling, crying, or making different noises. Toddlers are more forthright in expressing their requirements. When parents or caregivers pay attention, listen to them, and connect with them, it develops their brains. That is why it is essential to chat and play with young children from an early age. Jean Piaget believed that children are like little scientists who learn through a process of active construction, rather than through passively receiving information.
School: Your child's second home
---
Your child is tomorrow's future. Therefore, he or she deserves the best education. Choosing the perfect school is very important for his or her overall development. Remember, school is often perceived as a child's second home.
When people think of artificial intelligence, they often think of robots because of various sci-fi movies that portray robots as intelligent beings that act and think like human beings. However, robots are only a small part of the application of AI.
We realise how difficult it is to find the best school for your child from so many options. Due to the number of options and recommendations from friends and family, parents become confused and often find searching for the perfect school a daunting task.
Feedback matters, but you should do your research. If you ever feel overwhelmed due to so many recommendations from your friends, you can go on google and check genuine reviews. Also, before selecting a school, check for the school management. Check whether the school management board constitutes entrepreneurs, builders, politicians, teachers, engineers or doctors.
Also, check the school's philosophy. Different schools have different philosophies. So, you must choose a school that matches your philosophy.
Keeping all these things in mind, we have listed six parameters that you must check before admitting your child to a school.
1. Approach to academics and extracurricular activities
---
The majority of researchers and specialists have acknowledged the importance of extracurricular activities in the development of children. The new National Education Policy has placed a renewed focus on the importance of skill-based non-academic activities.
Above all, effective leadership, communication, and social skills are essential for future success. Participating in creative activities provides your child with the required abilities and competitive advantage. In addition, it develops both intuitive and cognitive abilities.
As a parent, you must recognise that acquiring these skills is the best way your child can spend his or her time after school. In addition, involvement in other activities also exposes kids to various creative professions.
It is essential to understand your child's interests while selecting a school. Choose a curriculum that has a good combination of academics and extracurricular activities. Parents are sometimes adamant and focus solely on academics. This should not be the case. Parents should provide their children with the opportunity to pursue their interests.
Each curriculum places a varied emphasis on academics and extracurricular activities. So, you may choose a school that gives what you want to provide your child based on their interests. FGS recognises the importance of engaging children in creative art, music, dance, or sports to give them a respite from their long, exhausting courses.
2. Student-teacher ratio
---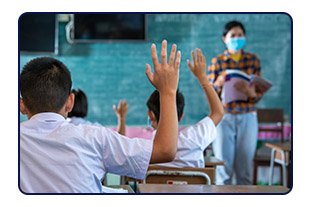 Many factors play a role in deciding the quality of education provided by a school, and the student-teacher ratio is one of them. But, many parents overlook the student-teacher ratio while choosing a school for their child.
However, this varies based on the school's curriculum and policies. Some schools do not have the resources to provide all the kids with the level of education that they need. As a result, you must pay attention to the schools that you have narrowed down.
A good student-teacher ratio will ensure the following:
All the students can understand the topics
Different students have different learning capabilities. So, if a school has a good student-teacher ratio, teachers can adapt the lessons so that each student can learn or understand the topics at their own pace. Every child is unique and has his or her own temperament and learning style.
More one-on-one time
Students get the idea that their teacher cares about them when they get more one-on-one time. Also, due to more one-on-one time, students can clear their doubts quickly.
Cohesive class culture
Students in a small class have the opportunity to form close bonds with their classmates. They can help each other in different activities instead of establishing cliques, which are common in classes with a large number of students.
Ability to cover more topics
When there is a small number of students in a class, the chaos is comparatively low. As a result, teachers get more time. They can discuss various topics, even if they are not in the syllabus. This can help the students gain comprehensive knowledge about different topics. The small class size has better discipline, and conducing learning environment, hence the teacher has more time for instruction.
3. Infrastructure and facilities
---
The school's infrastructure should be well-planned to facilitate effective teaching and learning. Noise and temperature levels can impact the learning procedures. Hence, the location of an educational institute is an essential factor.
Well-equipped laboratories enable your youngster to complete lab tasks efficiently. In addition, a well-stocked library allows your youngster to try out different books from different genres.
Other aspects that speak volumes about a school's overall level of excellence include an assembly space and sufficient sanitary facilities.
Basketball courts and other amenities are available at FGS. Sports may not be appealing to every youngster. If your child likes reading, she will benefit from having access to a library.
4. Future technology
---
Robotics and electronics have occupied a significant position in the practice and delivery of STEM education. A STEM curriculum is designed to provide Its students with maximum possible practical exposure and hands-on experience in a specific field. Robotics is an excellent example of a discipline that combines science, technology, engineering, and mathematics. At FGS, we approach robotics from a STEM perspective and recognise its benefits.
At FGS, robotics will comprise the basic building of a robot that follows the users' commands in terms of movement and performs activities essential for comprehending the scientific and mathematical underpinning of the ideas. This encourages students to construct more and think creatively about what they can accomplish with the devices and solve issues.
5. Money charged vs money spent by the school
---
Money influences every decision we make in our lives, including our children's schooling. A specific amount of money is set aside by parents for their child's education. This is one of the most important things to consider while picking a school. Examine the fee structure and select institutes that are within your budget. Parents should verify where their money goes before choosing a school. Check if the extracurricular activities are worth the fees paid. Besides that, check if the fee structure has some hidden or undisclosed charges.
Parents often select schools that are costly to provide their child with a high-quality education. But, a school's credibility cannot be determined by its cost. Yes, premier institutions have better and technologically advanced facilities. But, you have to consider all the factors while choosing a school. Moreover, if you select a school by going out of your budget, it may cause difficulties and other implications in the future.
6. Discipline and a healthy environment
---
child spends a considerable amount of time at his or her school. He or she makes many friends and develops a special bond with the school. So, you must ensure a secure environment for your child where he or she can learn and develop correct habits and behaviours.
The presence of serious and disciplined batchmates can motivate your child to work hard. As a consequence, your child will be more conscious of his or her actions. External circumstances can also have an impact on your child's overall development.
If the surroundings are good, your child will benefit from a favourable influence. As a parent, you should ensure that the school you are going to choose adheres to strict guidelines that provide a safe and healthy environment.
Conclusion
---
Selecting the perfect school for your child may be a daunting task. However, with the correct assistance and an awareness of what you want for your child, the process may seem less complicated and quite enjoyable.
As previously said, the first step is to comprehend the internal elements or the things you want for your child. After that, analyse the external factors such as infrastructure, student-teacher ratio, size, location, safety, brand value and the school's overall atmosphere. Also, do not ignore your budget. Finally, you must concentrate on selecting the appropriate curriculum for your child.
FIITJEE Global School can be a perfect choice for your child's education. With world-class facilities, FIITJEE Global School provides its students with all the elements necessary for their overall development.
Subscribe to our Newsletter
To complete the subscription process click on the activation link sent to your email.