How lockdown is affecting children in middle and elementary school
The year 2020 has been the year that has drastically affected various sectors, and the education sector is no exception to this. The lockdowns imposed by governments across the globe to combat the spread of the deadly Covid-19 virus have had severe ramifications on the education system. The sudden shift from traditional classroom-based education to online-based education has affected children's social life and mental health in many ways. Although the lockdown provides students with ample time to acquire new skills and develop existing skills digitally, it has also allowed students to spend more quality time with their family, giving them additional opportunities to learn moral and family values.
On the other hand, there are various challenges associated with online education and the shutting down of schools, colleges and other educational institutions. Here is how the lockdown is affecting children's education, especially in the age group of 4-14 years and how FIITJEE Global School is coming up with innovative solutions to tackle them.
1. Lack of Ideal Student-Teacher Ratio and Tech-Savvy Teachers
---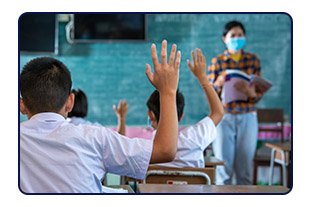 With the imposition of the lockdown and emergence of online education, schools and educational institutions are taking measures to reduce their costs by dismissing teachers that are not tech-savvy. This has shot up the student to teacher ratio; sometimes, this ratio is 100-120 students to 1 teacher, making it difficult for both the teachers and students to cope with online education. Due to this massive student-teacher ratio, the teachers are finding it difficult to pay individual attention to each student and help them to refine their learning ability. This, in turn, makes it difficult for the students to grasp what is being taught and leaves their learning difficulties unaddressed.
The FIITJEE Global School not only prioritizes completion of syllabus on time, but its main motive is to impart a proper understanding of learnings to their students by maintaining an ideal student-teacher ratio of 25-30 to 1. This allows teachers to pay attention to each student individually while keeping their academic performance in mind. The faculty at FIITJEE Global School is handpicked, and they share the same rigor and discipline that the school values.
Moreover, the faculty at FIITJEE Global School is initially imparted with technical training to polish their skill set. On completion of training and clearing the assessment the teachers are awarded certificates and only certified teachers who have acquired the skills as per FIITJEE Global School pedagogy are allowed to teach, which means better teaching skills.
2. Limited Scope of Teaching
---
Most schools and educational institutions are primarily focused on timely completion of the syllabus set by the Central Board of Secondary Education (CBSE). On the contrary, FIITJEE Global School has a holistic approach towards preparing your child for the global stage. This is why the school gives students the option of including one foreign language along with two Indian languages in their syllabus , as per the three-language policy In sync with the NEP-20.
To give a better understanding of knowledge, FIITJEE Global School believes in imparting experiential education to the students. FIITJEE Global School's primary focus is to provide academic excellence to its students and for this the school prepares them for Olympiads, Competitive examinations like IITJEE, NEET and various scholarships like NTSE,KVPY etc. It also focuses on providing value-based education thereby enhancing an individual's IQ, EQ, SQ, PQ, HQ, resilience, adaptability to name a few. This feature helps students sharpen their communication skills and prepares them to excel on a global platform.
3. Lack of Recreational Activities
---
We all know the saying, "All work and no play makes Jack a dull boy." The lack of recreational activities in the online education system makes the student's life mundane as most schools and educational institutions focus solely on timely completion of the syllabus.
FIITJEE Global School understands very well that for the all-round development of their students, it is essential to impart teaching that is not based only on the syllabus. For this, FIITJEE Global School provides students with weekly music and art classes to make their online classes interesting Interactive & engaging and help them learn new skills that enhance their creativity. FIITJEE Global School has also introduced various clubs like Robo Titans – The Robotics Club, Skywards – The Astronomy Club, Science Mania The Science Club where out-of-box thinking is appreciated and others to encourage students to pursue their interest in a particular field. Also, these clubs impart education to students in fun and innovative ways resulting in deepening their interest in a particular field.
4. Lack of Motivational Programs
---
Schools and other educational institutions have been shut down for more than a year now due to the lockdown, leaving kids home-bound with no peer interaction and recreational activities. This has adversely affected their mental health leading to problems like anxiety and depression.
Adolescent children need inspirational figures to model and look up to. For this, FIITJEE Global School organizes motivational sessions by various eminent personalities who are renowned in their respective fields for extraordinary work and accomplishments. These sessions help students stay motivated and have a positive approach to life.
In addition, while Children are at home and can't use Lab and other facilities of the school, Laboratory and other DIY (Do it Yourself) kits are sent to students' homes to make learning more fun and thus improving the motivational level of students.
Conclusion:
---
A well-rounded, wholesome education is valuable as it shapes your child's future success in a significant way. In today's era, excelling in academics is undoubtedly important, but the child's holistic development is just as important as a good education. FIITJEE Global School aims to nurture their students with exceptional moral values, education and skills across multiple tangents.
To achieve this, the school has formulated a dynamic curriculum that focuses not only on academic excellence but also the development of aesthetic skills and value-based learning. The dynamic curriculum also includes physical education and fitness regimes to help students excel in sports and encourage good physical and mental health. So, enrol your kids in FIITJEE Global School for holistic development and a bright future.
Subscribe to our Newsletter
To complete the subscription process click on the activation link sent to your email.